My 2022 review - real numbers and honesty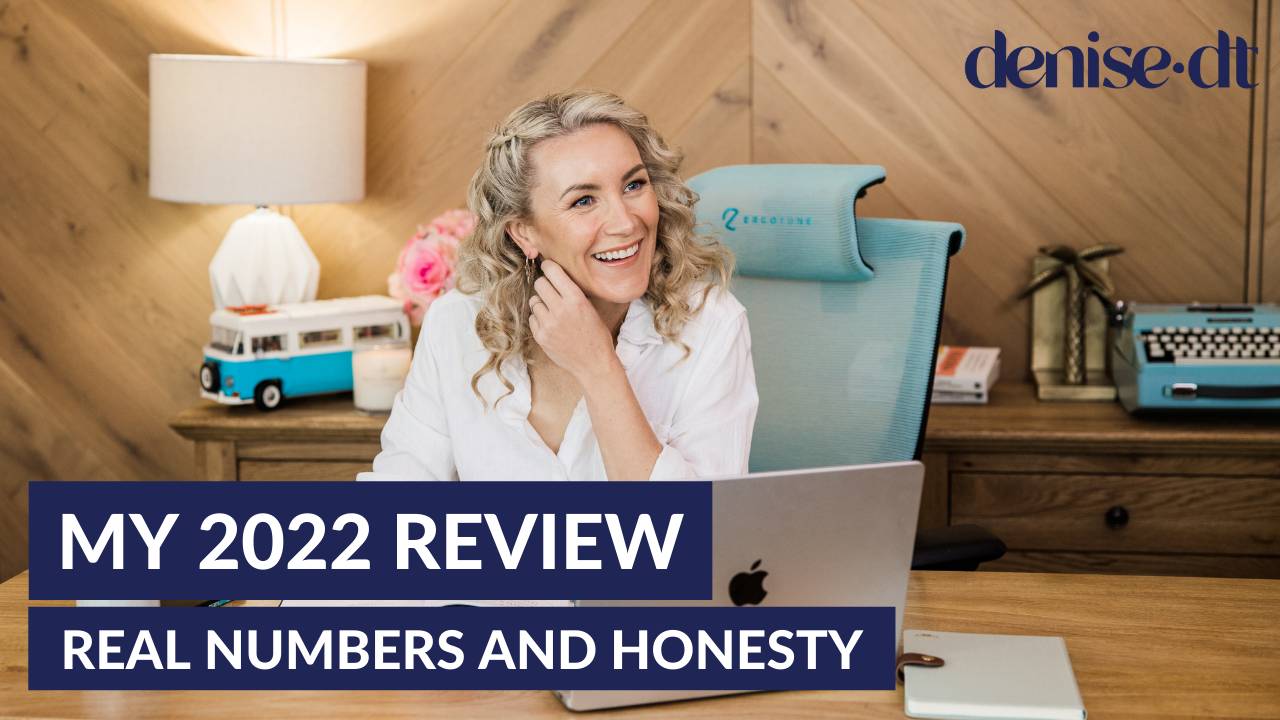 I'm excited to share my 2022 year-in-review.
Overall, it was a very busy year. Super ironic when I re-launched my book Chill and Prosper, but it's given me lots of valuable lessons about balance and boundaries.
One quick disclaimer: I'm really lucky to do work I love. As I'm sharing big numbers and also challenges, please know that I'm aware of my privilege, but I still value transparency, real numbers, and sharing behind-the-scenes challenges.
If you missed my recent podcast on my successes and mistakes from 2022, click here to listen.
Let's dive in:
Total revenue - $4.9m
Up 6% v. 2021
2022 was our highest revenue so far. Not a huge increase from last year, but it feels great to grow during a challenging year.
We were so close to our $5m target and were expecting a six-figure affiliate payment in December that would have ticked us over, but that just makes January extra abundant.
Total expenditure (exc. Tax) - $2.15m
Up 19% v. 2021
This was the first year we've ever spent more than $2m. This increase is due to creating and launching a new course and expanding the team. It was totally worth it.
I'll detail our main expenses in a bit. You can see how much I spent on my new course here.
Profit - $2.76m
Down 3% v. 2021
We expected a slight drop in profit due to the new courses, but 2023 profitability should increase back to normal.
Expenses also include some 2023 travel bookings for speaking gigs. Keep updated with my travel schedule here.
Profit margin - 56% v. 61% in 2021
A great result and we should be back over 60% profitability in 2023. My tax bill will be around $700k but we pre-pay every month, so it won't be a big shock.
Here's how the $4.9m of revenue breaks down:
Course sales - $4.45m
Up 13% v. 2021
Our focus has been growing course revenue rather than affiliate income. It's up over 100% from 2020, when we made $2.2m in course sales.
We sold fewer Money Bootcamps (897 v 1,475) because we spent time creating and launching the Money Archetypes course, which had 952 sales. Our previous best ever was 370 so we were SUPER HAPPY!
Affiliate Income - $285k
Down 49% v. 2021
As I mentioned, there is a large affiliate payment due in Jan, but this reduction in affiliate income was planned as we've reduced our number of partnerships to focus on our own courses.
Events and Speaking Fees - $119k
Up 230% v. 2021
I ran two retreats at my Rose Farm and received some advanced payments for 2023 events and speaking gigs - I'm excited to be doing more travel in 2023.
Book Royalties - $46k
Down 51% v. 2021
I launched Chill and Prosper in July, but it takes a while for royalties to kick in. These royalties are from my other books with Hay House.
Investment Income
The income from our personal investments (mostly property) took our total income over $5.2m, but I've kept income and expenses from our family investing out of this breakdown.
I did a podcast episode last year about how I invest my money - listen here.
Now let's look at how the $2.15m of expenditure breakdowns.
Advertising - $440k
Down 20% v. 2021
This one surprised me, but we reduced our ad spend in our non-launch months this year as we swapped ads agencies and also focused on creating and delivering.
Wages + Pensions - $319k
Up 10% v. 2021
This is our core team; myself, Mark and our contract employees.
Contractors - $355k
Up 63% v. 2021
We increased our spending on support staff and contractors. We added more community mentors in our courses and grew our copywriting, marketing, and social media teams.
Coaches and consultants - $157k
Up 65% v. 2021
This includes photography, brand design, copywriting, coaching, and social media consultants.
We worked with Alexandria Joy of UQ Power and Taki Moore's Black Belt program for business coaching, plus different kinesiologists, therapists, and a breathwork coach.
Donations - $207k
Up 40% v. 2021
I love making money and love giving money!
We increased our contributions to our family's charitable fund, which gifts grants to support education, legal advocacy, and environmental protection.
We made a large donation to the UNICEF Education for Girls program after our SMA launch, and my old High School to build a wellness hub for disadvantaged students.
Other charities supported include Hope in a Suitcase, The Smith Family, ANTAR, Yalari, Red Cross, Save the Children, Got Your Back Sista, and Everytown Against Gun Violence.
Bank fees, Stripe fees, and foreign currency losses - $147k
Up 20% v. 2021
This is just a cost of business and due to the increase in our course sales but it's still a significant amount!
Video and editing - $122k
Up 400% v. 2021
I re-recorded all of the Bootcamp and Money Archetype videos, but I can use them for a few years. This was a huge jump but I really wanted everything to look amazing quality. It was worth it.
Website and systems - $116k
Up 107% v. 2021
We rebranded the website, created new sales pages, revamped all the course portals and needed more subscriptions and software like Zapier and Zoom.
Zoom costs alone were over $7k due to big numbers on webinars.
My best business investments of 2022
The epic styling, staging, and videography for my Money Archetypes launch was a game-changer and such a fun, creative project.
I'm also really happy with the re-brand for the website and Money Bootcamp.
Our team continues to be so dedicated and we're grateful for their support for our community.
Cool personal things I spent my money on
Finishing the renovations at my Rose Farm was a massive highlight. It is such a special place for our family and the occasional VIP retreat.
I loved supporting the Arts by investing in two musicals and the opening of the Broadway Museum in New York.
Where do I wish we spent more money?
Copywriting - as the business grows and I had so many projects, it was hard for me to put my stamp onto every piece of content. I really need help in this area (or reduce my other projects!)
Where do I wish we spent less money?
There were a few money leaks, like unnecessary subscriptions that I was too busy to spot, but most of our business investments, like the new courses, will really pay off.
Personally, I wasted money because I forgot to return things like clothes or shoes that didn't fit! (ADHD tax)
I decided to sell two of my vintage cars as I wasn't using them, and the maintenance was annoying! Both sold for a profit, and it's two fewer headaches for me.
How do I feel about 2022?
Honestly, it was a blur! I said yes to way too many projects (some my fault, some leftovers from 2021), and although I was totally in my creativity zone, I probably neglected my family and personal life.
We did some epic things and helped a lot of people, but I got out of balance and don't want to repeat that pattern in 2023.
What's ahead for 2023?
I'm craving more freedom in 2023 and like a lot of people, more adventure and travel. We've got some epic trips lined up.
January is already heating up with our big annual launch. I'll be delivering Money Bootcamp and Sacred Money Archetypes® over the next few months.
And I'm just about to kick off a new epic Money Manifesting Challenge. You can reserve your free spot here.
As always, my big business goal is to make money, change the world.
But my personal goal is to read more books and chill more!
My message to you
Maybe you're still trying to figure out your "new normal" and worried about making plans when there's still so much uncertainty.
I get it.
I think we're in for another year of SIMPLIFICATION; getting clear on what works and leaving what doesn't.
But your business dreams are still so important. And let's face it, more money makes getting through uncertainty much easier.
Even if you don't have it all figured out right now…
You deserve to get paid for your talents. You deserve to thrive.
I'll always be here to help you release your money blocks and create a First Class life.
Thank you for supporting my business, commenting and sharing my books, articles and programs.
It's your time and you're ready for the next step.
xx Denise
Get my Ultimate Guide to Pricing
In this downloadable PDF, I'm going to reveal so many awesome pricing strategy secrets - sign up to receive this Definitive Guide to Pricing direct to your inbox so you can refer to it whenever you need to increase your prices or bust through your next money block!
GET IT NOW